Over the last five years, a group of billionaire Silicon Valley investors called 'Flannery Associates' have put down $800m for 55,000 acres of agricultural land in Southeastern Solano County in a proposed development project called California Forever.
Flannery Associates proclaims to want to build a utopian city, offering its residents urban living and access to public transit, operating on clean energy.
But the development of a remote, isolated city by paving over this farmland and hillside creates a number of environmental and economic problems, causing alarm among environmentalists, residents, farmers, and many others who advocate for a more equitable, affordable, and environmentally sustainable region.
Greenbelt Alliance was founded 65 years ago by local community activists sounding the alarm on development proposals on iconic Bay Area landscapes that would be damaging to communities and ecosystems alike. We've paired our advocacy for open space protection with strong support for new climate smart development within our existing cities and towns.
And we're continuing to support environmentally sustainable growth and mobilize against harmful developments over six decades later.
We are bringing people together to share resources and data, "California Forever" project updates, and advocacy opportunities.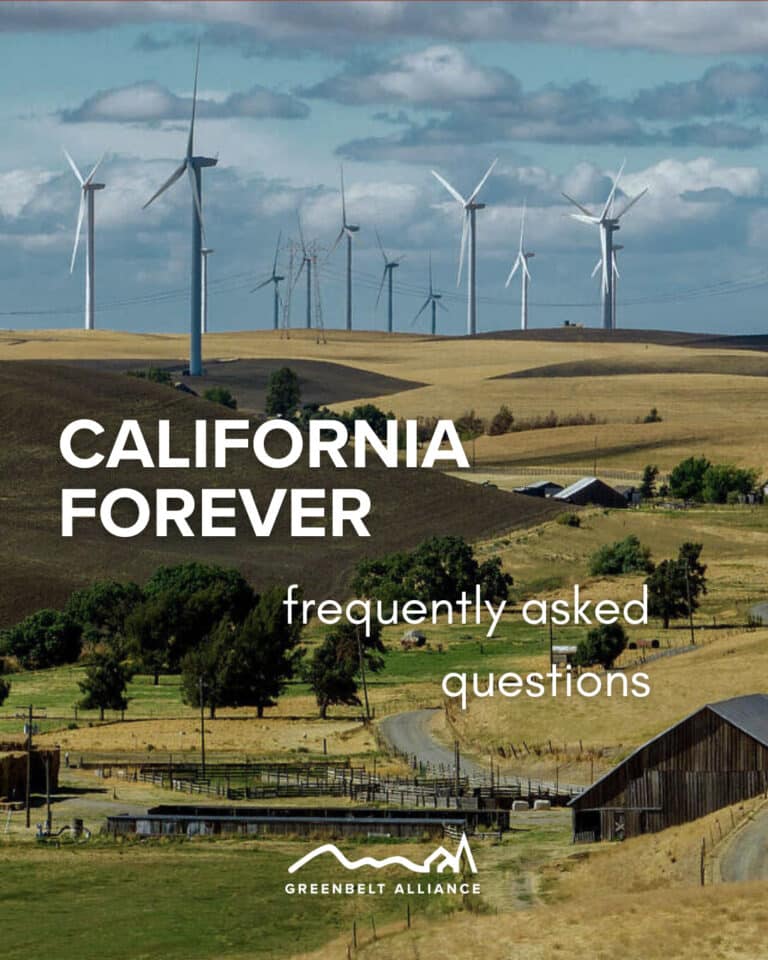 Why We're Concerned About "California Forever":
Why Bay Area Residents Are Concerned
Fill Out the Form Below to Stay in the Loop
"California Forever" In The News
Click the headline to view the article.
Why Greenbelt Alliance is Taking Action
In 2008, multiple interests around Solano County, including Greenbelt Alliance organized to support an updated Orderly Growth Initiative. Originally adopted in 1984, the Initiative affirms a strategy of city-centered growth and protects and supports Solano County's agricultural lands by preventing certain developments. Over 70% of voters supported this measure, which signaled to outside developers such as Flannery Associates that this type of proposal is not appropriate for Solano County.
Greenbelt Alliance is proud to have worked with leaders throughout Solano County several years ago to protect the irreplaceable agricultural and natural areas within the county while directing growth and development into existing cities through the Orderly Growth Initiative, adopted originally in 1984 and renewed in 2008.

And with "California Forever," the fight is ongoing. Read more below.
Blog
Before the hype about "California Forever," Southeastern Solano County may not have been top of mind for many Californians. But recent headlines are drawing more attention to this remote and agrarian region. Initial information about this billionaire funded "city of the future" touts appealing phrases like walkable neighborhoods and environment stewardship in their vague plans,
Read More »