Joaquin Miller Park has a ton of hiking trails that you can choose from. This park features second-growth redwood trees and is very lush and shaded. It's a wonderful place to hike rain or shine. The trail is always blanketed with redwood leaves so it's never muddy, and on hot days it's a natural air conditioner.
The redwoods in Joaquin Miller Park are considered to be one of the few Redwood forests to flourish in an urban setting. Most of the redwoods found here are second and third growth following major logging in the late 1800s and early 1900s when the redwood trees were used to help build Oakland, San Francisco, and other cities of the time.
The park is home to over 200 species of native plants and many wildlife flourish here, including hawks, owls, California quail, lizards, gophers, snakes, deer, and skunk. I had the privilege of attending summer camp in this very park as a kid. The camp was called Touch the Earth, but my parents always called it Touch the Dirt since I would come home extremely filthy from playing in the redwood forest all day. It's a great place to go with kids, and there is an abundance of tree branches that can be used to build forts! Being out in nature can help build our imaginations and is a perfect time to reflect and ponder. We're extremely lucky to have access to such a lush and beautiful forest setting so close to an urban city.
The hike I'm recommending is an easy loop that can be extended into a larger hike by picking up other trails along the way.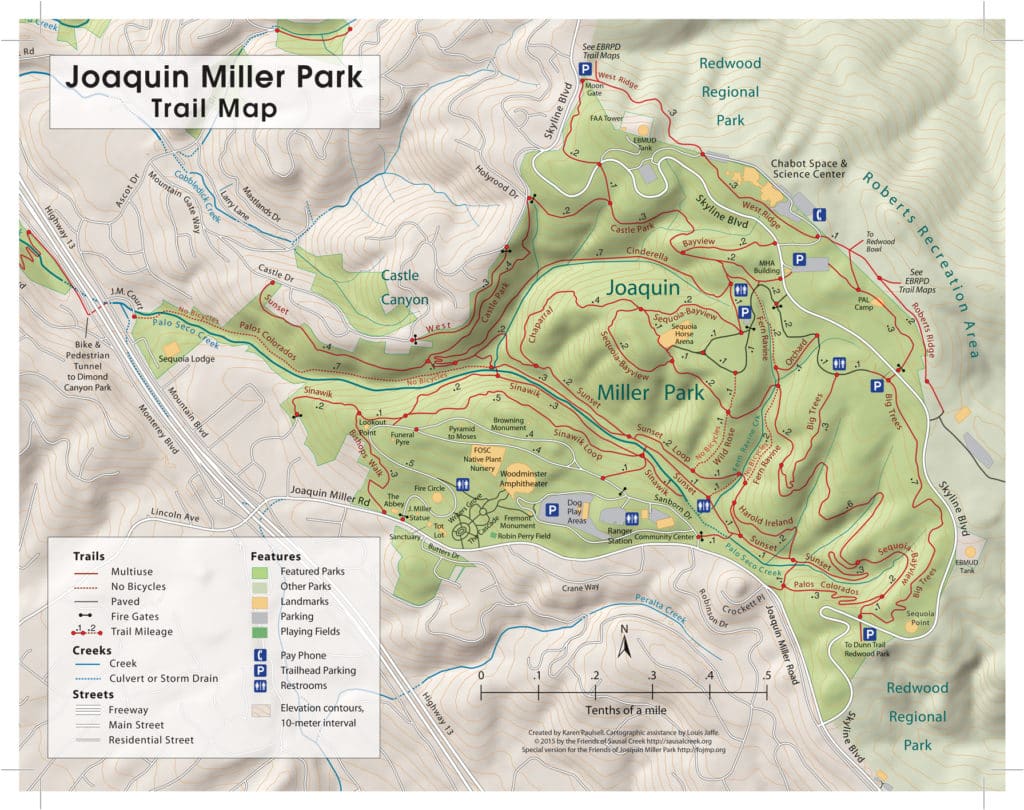 Park at the Redwood Glen Trailhead, and as you enter the park walk along the cement path. When you see the restrooms on the right, turn left onto the Big Trees trail. Follow this path through the redwoods and hike down towards Sequoia Bayview. Turn right, and take the Sequoia Bayview trail all the way to the Horse Arena. Do not turn up to the Horse Arena at the first sign, but at the second.
After the Horse Arena, walk up the cement path. After the port-o-potties, you will see a picnic area on the right. Walk down towards the picnic area and turn right to get onto the Fern Ravine trail. Hike up the Fern Ravine trail which will loop back around to the cement path, which is the Big Trees trail. Big Trees will take you back to the parking lot.
Trailhead: Redwood Glen Trailhead, Oakland, CA
Things to note:
Sequoia Bayview and Big Trees Loop: an easy 1.7 mile loop in Joaquin Miller Park.
Dogs can use this trail but must be kept on leash.
Please check this website for Joaquin Miller Park's hours, trail conditions, and updates.