As we all learn to navigate the uncharted trails of COVID-19, we believe strongly in the power of spending time out in nature. So while we limit our group Outings and practice social distancing, we've come up with some easy to access DIY hikes for you. Enjoy!
East Bay
Indian Rock Park, Berkeley, CA: Indian Rock Avenue at Shattuck Avenue, Berkeley

Photo: Daniel Parks via Flickr
What you'll see: Smack in the middle of a residential neighborhood is a rocky outcropping beloved by rock climbers, students and families. Walk up the stairs carved in the rock to grab a perch with a view that stretches from Oakland to the Golden Gate Bridge, from Mount Tamalpais to the hills south of San Francisco.
Good to know: You can stop at one of the many cafes on Solano Avenue for a snack to eat atop the rock or at one of the tables in the nearby picnic area. Or let your hunger build so when you come back down Indian Rock Path, you can do justice to a deep-dish from Zachary's Pizza (1853 Solano Ave.).
Getting there: Public transportation: From the Downtown Berkeley BART Station, take the No. 18 bus at the southeast corner of Shattuck Square at Center Street and get off at Solano Avenue and the Alameda. Cross the Alameda and walk up Indian Rock Path until it ends at Indian Rock Park. By car: from Interstate 80, take the Buchanan Street exit, and continue east on Marin Avenue. Continue on Marin, then go around the Circle, and turn right on Arlington Avenue. Almost immediately, take a slight right uphill onto Indian Rock Avenue; the park will be on your left.
(South) East Bay
Lake Elizabeth and the Gateway Plaza, Fremont, CA: Fremont Central Park, Stevenson Boulevard and Paseo Padre Parkway; Walnut Avenue and Paseo Padre Parkway

Photo: Don DeBold via Flickr
What you'll see: From bird-watching to Bollywood, it's all here. Take a 2-mile walk around Lake Elizabeth and enjoy views of Mission Peak. The lake is on the migratory bird flyway, and you may see coots, mallards, shovelers, green-winged teal and cinnamon teal in the lake, as well as black phoebes and tree swallows flitting nearby.
Head over to the Gateway Plaza to grab a bite. Then catch a film from India, Pakistan, Afghanistan, China, Taiwan, Korea or the Philippines at the multicultural NAZ8 theater.
Good to know: Bring binoculars for bird-watching or to improve your view of the subtitles.
Getting there: Public transportation: Take BART to the Fremont Station; leave by the front entrance and walk straight ahead to Civic Center Drive. Turn left and continue until Civic Center ends at Stevenson Boulevard. Cross Stevenson, and take the path behind the library to Lake Elizabeth. To reach the Gateway Plaza from the park, walk west along Paseo Padre Parkway and cross Walnut Avenue. By car: Take Interstate 880 into Fremont and exit at Stevenson. At the light at the end of the exit ramp, turn left, heading back over the freeway. You will be on Stevenson; continue on Stevenson about 2 miles to Paseo Padre. Turn right on Paseo Padre and immediately get into the left lane. The first traffic light is at Sailway Drive. Turn left at Sailway into the park.
Peninsula
Dish Loop, Stanford; Gerona Gate: Gerona Road at Junipero Serra Boulevard; Stanford Gate: Stanford Avenue at Junipero Serra Boulevard, Palo Alto, CA
Photo: Daniel Hoherd via Flickr
What you'll find: Only a few steps from busy Junipero Serra Boulevard, a wonderful loop trail leads to the Dish, Stanford's 150-foot-diameter radio telescope. Walkers and joggers can see a variety of birds and wildlife, as well as panoramas of the entire Bay Area. The 3.7-mile paved trail is hilly, not only giving runners a workout, but also well used by the stroller set.
Good to know: The Dish is open during daylight hours only, and there is a guard at each gate who will provide a map. For hours and closures, call (650) 926-0275. No dogs or bicycles are permitted on the trail, and there are no bathrooms. Bring binoculars and keep an eye out for golden eagles. The smaller radio telescope is a frequent perch for raptors.
Getting there: Public transportation: Take Caltrain to Palo Alto. Then take the free Stanford shuttle, the Marguerite, to the Stanford campus. To get to the gate at Gerona Road, take the Marguerite B shuttle going clockwise to Mayfield Avenue, and from there walk down Campus Drive East toward Junipero Serra. By car: To the gate at Stanford Avenue, take Interstate 280 south to the Page Mill Road exit. Turn left (north) onto Page Mill Road toward Palo Alto. Turn left at Junipero Serra and then right onto Stanford, where you can park.
North Bay
Shollenberger Park and downtown Petaluma, CA: Cader Lane and South McDowell Boulevard, Petaluma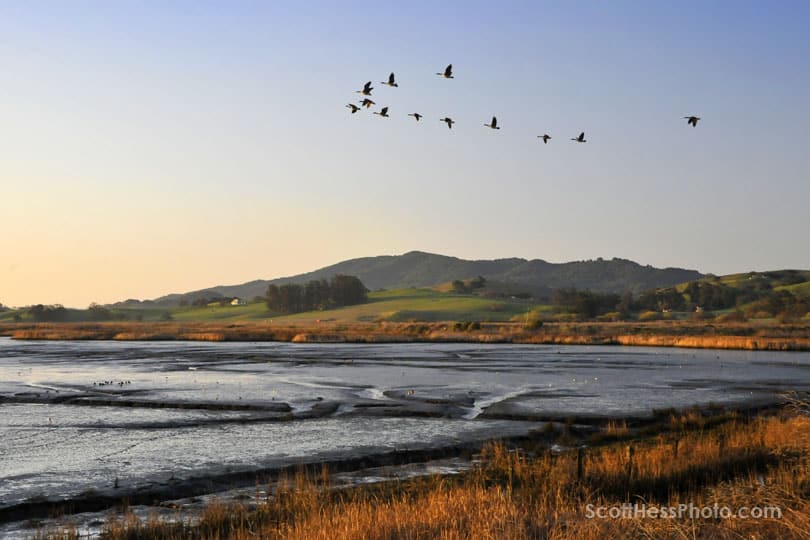 Photo: Scott Hess via Flickr
What you'll find: Tucked behind office parks and industrial buildings is a wetland and a 2.1-mile levee walk offering views of rolling hills and the Petaluma River. Silt dredged from the river goes into this pond; its rich nutrients support a variety of wildlife. After the levee walk, drop in on Petaluma's historic downtown and sample pastry made from local eggs at Della Fattoria (141 Petaluma Blvd. N.) or sit down to a farm-fresh feast at the Central Market restaurant (42 Petaluma Blvd. N.).
Good to know: Bring binoculars; birders have spotted more than 150 species at Shollenberger Park.
Getting there: Public transportation: By bus, from Mission and First streets in San Francisco, take Golden Gate Transit No. 80 to the Petaluma Copeland Street Transit Mall. (For schedules, go to www.goldengatetransit.org.) Then take the No. 2 South McDowell to Shollenberger Park.
To get downtown from the park by bus, cross South McDowell Boulevard and take the No. 2 South McDowell bus to Fourth and C streets. The bus does not run on Sundays. (For a schedule, go to links.sfgate.com/ZDLB.) By car: From Highway 101, take Highway 116 in Petaluma and go east for about a mile. Turn right on South McDowell and go 0.3 miles. Then take a right at Cader Lane into the parking lot. To get downtown from the park by car, head west on Highway 116 (Lakeville Highway) for about 2 miles; this goes under Highway 101. Turn left at East D Street, cross the river and turn right on Petaluma Boulevard South.
San Francisco
Glen Canyon and Glen Park, San Francisco, CA: Chenery Street and Elk Street, San Francisco
Photo: Ben Kilgust via Flickr
What you'll find: Rugged Glen Canyon Park cuts a dramatic swath through the village-like neighborhood of Glen Park. The canyon was shaped by Islais Creek, one of San Francisco's last remaining aboveground free-flowing creeks.
The walk: Enter the park on Elk Street, slightly uphill from Chenery Street, and walk past the tennis courts. Islais Creek emerges from its culvert here between trails. Take the trail along the left (west) side of the creek. At the far end, climb up wooden steps to cross the creek for a spectacular view from the canyon walls to grasslands to striking chert outcroppings. Walk back along the trail on the creek's east side. Explore the neighborhood, too: To return, go up Elk to turn right on Sussex Street and walk to Diamond Street. Turn right on Diamond, and as you walk back down, check out picturesque Penny and Poppy lanes and look for the tiny Glen Park Village Garden just past Chenery on your left.
Getting there: Public transportation: Take BART to the Glen Park Station, cross Bosworth Street and walk along Diamond to Chenery. Turn left and walk several blocks to Elk, to the entrance to Glen Canyon. Or take Muni's No. 44 to Elk and Bosworth; No. 52 stops at Bosworth and Diamond. By car: From Interstate 280, take the Monterey Boulevard exit. Make a sharp right onto Monterey. Turn left on Diamond and then left on Bosworth. Turn right at Elk to Chenery.
Page Header Photo: Mike Kirschner via Flickr