We're excited to feature another Park Profile on a scenic and serene place to recreate, relax, and unwind in Solano County, a place just outside the city limits of Fairfield—Rockville Hills Regional Park.
Also known as Rockville Trails Preserve, this piece of land is managed by The Solano Land Trust—one of our amazing partners in Solano County. The Land Trust was founded in 1986 and works with open space advocates, land developers, and municipal governments to "preserve the agricultural legacy and natural landscapes of Solano County and enhance people's relationship to the land."
---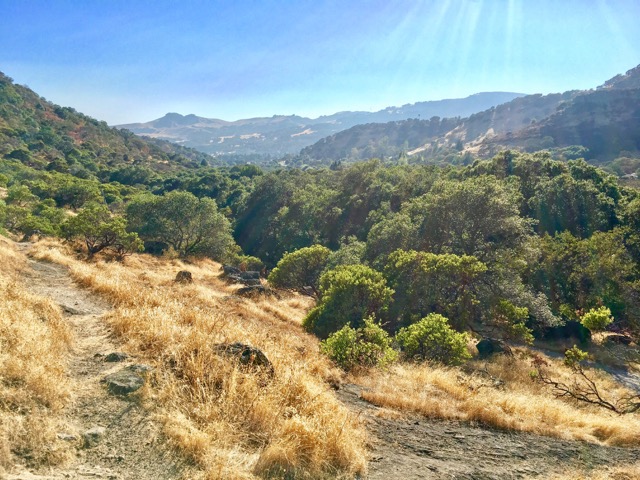 On our blog, we regularly feature a "Park Profile" of a park or open space that could be included in the Solano County Park and Open Space District. Each feature includes general information about the park, including its history and our favorite trails there. We'll also list the opportunities for expansion and improvement at the park that could be realized with the creation of a Solano County Park and Open Space District. So read on to learn more about this quarter's featured park, Rockville Hills Regional Park.
Park Address: Rockville Hills Regional Park—2149 Rockville Rd, Fairfield, CA 94534.
Park Hours: Open year round from sunrise to sunset. Usually open from 6:15 a.m. to 8 p.m.
Park Fees: An entrance pass or permit is required for all vehicles. Hikers, bicyclists, and dogs can enter with no charge. There is a $3 all day entrance/parking fee.
Website: https://solanolandtrust.org/protected-lands/rockville-trails-preserve
Facebook Page: https://www.facebook.com/Rockville-Hills-Regional-Park-113960911960045/
Phone Number: (707) 428-7614
About the Park
Rockville Hills Regional Park is located in Fairfield, CA and is maintained by the City of Fairfield and the Solano Land Trust. The park consists of 633 acres of volcanic rock hills and grass valley landscape. The park is dog, mountain biking, and hiking friendly, and regularly frequented by local community members and their families. During spring and winter, the landscape is green and lush, while during the summer and fall the landscape can be quite brown and dry. There are numerous trees to provide shade during the hot summer days and breathtaking scenic views of Solano County. Greenbelt Alliance intern Kristiana Cuevas—who co-wrote this Park Profile—hiked at Rockville Hills Regional Park over the summer with her brother and said, "It's a beautiful hike and right after you can eat at one of the local cafes near the park!"
"Rockville Hills Regional Park epitomizes the beauty, rural character and quiet splendor that is Solano County.
Filled with stands of blue and live oaks, temporal vernal pools, wildflowers, and wildlife, Rockville Hills Regional Park's 1,500 acres provide a connection to our past and a vision for our future.
As you explore this land, it is easy to imagine a time when Patwin Indians walked the oak forests and stood on the highest mesa to look out over the valleys below. The forests, rugged hills, and high ridges that they saw hundreds of years ago are largely unchanged. This new natural park will be the gateway for visitors from the local community, the Bay Area and the Central Valley into the western hills of Solano County and beyond."
Rockville Hills Regional Park: Park Highlights
There are many trails throughout the park, giving hikers and bikers options of any length or degree of difficulty. There are also two lakes—the larger upper lake, and the smaller lower lake. As you hike deeper into the park, you'll find a community bulletin board and a convenient cabinet filled with safety kit essentials. A full map of hikes at Rockville Hills Regional Park can be found here.
As the weather and scenery changes this autumn, plan a weekend outing to the park. While you're at it, stop at any of the amazing nearby wineries in the Suisun Valley (known as a little Napa Valley) or at the great antique stores in Mankas Corner. Nearby Larry's Produce—an outdoor market—is also a wonderful place for all of your pumpkin, gourd, and fall fresh produce needs. We'd love to hear what you think!
Co-Written by Amy Hartman and Solano Intern Kristiana Cuevas
Photos: Amy Hartman
Header Image: Tom Hilton via Flickr