In response to the tragic loss of homes in the October 2017 fires and the region's housing affordability challenges, Sonoma County has set a goal of adding as many as 30,000 new homes to its cities and towns over the next five years. We're dedicated to making sure the right development happens in the right places—with development focused in smart locations and offering a variety of types of new homes, including townhomes, condos, and apartments, to meet the diverse needs of Sonoma County's residents—while protecting the county's iconic greenbelt lands.
Greenbelt Alliance has taken up the challenge by creating a new housing conversation map that shows the areas where growth is appropriate and where it's not. The goal is to help policymakers, advocates, and the community get on the same page about how to describe these places and where they are in Sonoma County.
Many of us in the conversation know about the voter-approved urban growth boundaries around Sonoma County's nine cities. Others recognize the protections we voted in to preserve community separators for another 20 years. But exactly where are they? And what about priority development areas (PDAs), transit priority areas, and communities of concern? What do they mean?
These technical planning terms are becoming more important than ever as stronger state, regional and local measures emerge to speed up the production of housing across the Bay Area and the state. The good news is that city-centered growth is the order of the day.
Plan Bay Area 2040 clearly conveys that we can accommodate future growth within our urban footprint. Greenbelt Alliance has demonstrated in Fixing the Foundation how cities like Santa Rosa can meet the need for more housing within their existing city boundaries. Sonoma County's land-use policies support city-centered growth and reject sprawl.
Yet much more needs to be done to accommodate new homes within our cities and towns and we must keep watch for attempts to undermine Sonoma County's important open space protections.
Sonoma County Housing Conversation Map
We've created the map below to clarify some of the planning terms* relevant to this conversation. To explore the map in more depth download the PDF here and look at the various layers.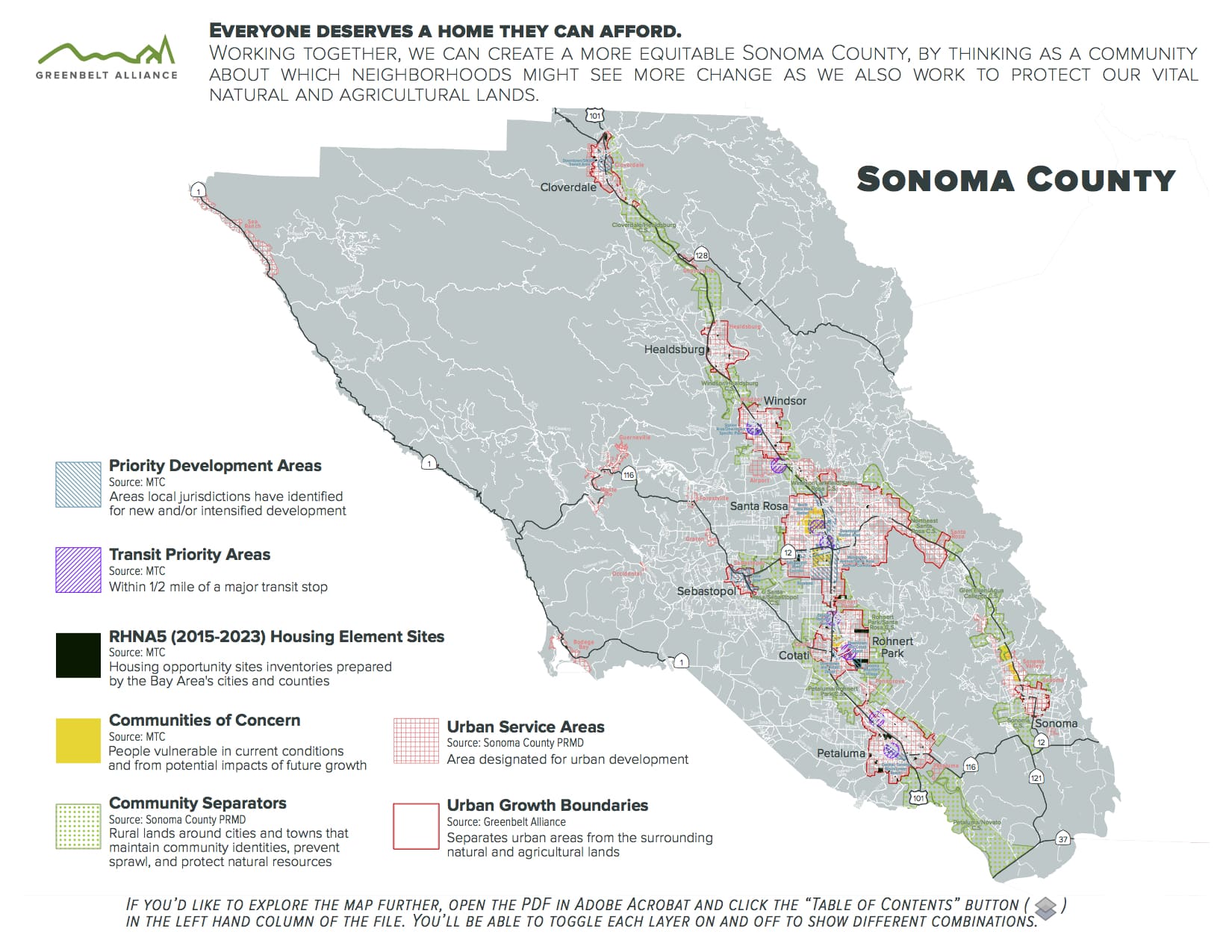 Here is a key describing each of the layers:
Where to Build:
Urban Growth Boundary: The urban growth boundaries around all nine cities in Sonoma County define where development should and should not happen. The line usually coincides with the city limit and is used to guide land-use decisions.
Urban Service Area: There are 12 urban service areas in unincorporated Sonoma County. Each is a geographical area that is designated for urban development. In Sonoma County, these are:

The airport
Bodega Bay
Forestville
Geyserville
Graton
Guerneville
Larkfield/Wikiup
Monte Rio
Occidental
Penngrove
Sea Ranch
Sonoma Valley
Priority Development Area: These are places identified by Bay Area communities as areas for new homes and job growth. In Sonoma County these are located in:

Cloverdale: Downtown/SMART Transit Area Planned Transit Town Center
Cotati: Downtown and Cotati Depot Planned Transit Town Center
Petaluma: Central, Turning Basin/ Lower Reach Planned Suburban Center
Rohnert Park: Central Rohnert Park Potential Transit Town Center, Sonoma Mountain Village Planned Suburban Center
Santa Rosa: Downtown Station Area Planned City Center, Mendocino Avenue/Santa Rosa Avenue Corridor Potential Mixed-Use Corridor, North Santa Rosa Station Potential Suburban Center, Roseland Potential Transit Neighborhood, Sebastopol Road Corridor Planned Mixed-Use Corridor
Sebastopol: Core Area Potential Transit Town Center
Windsor: Redevelopment Area Planned Suburban Center

Transit Priority Area: Defined as an area within one-half mile of a major transit stop that is existing or planned, if the planned stop is scheduled to be completed within the planning horizon included in a Transportation Improvement Program.  In Sonoma County the Transit Priority Areas are designated around the SMART train stations.
RHNA5 (2015-2023) Housing Element Sites: The Regional Housing Need Allocation (RHNA) is the state-mandated process to identify the total number of housing units (by affordability level) that each jurisdiction must accommodate in its Housing Element. In Sonoma County, these sites are located in various sites across the county.
Communities of Concern: The definition of "communities of concern" is intended to represent a diverse cross-section of populations and communities that could be considered disadvantaged or vulnerable in terms of both current conditions and potential impacts of future growth. Designated communities of concern Sonoma County are located in parts of Santa Rosa, Rohnert Park and Sonoma Valley. 

Special attention is needed to make sure development benefits all residents, particularly in these areas.
Where Not to Build:
Community Separators: Community Separators are lands that function to separate cities and other communities, to contain urban development, and to provide city and community identity by providing visual relief from continuous urbanization.  More than 53,000 acres of lands are designated around Sonoma County's cities and unincorporated communities from Sonoma Valley to Cloverdale.
---
Resources
Sonoma County's full glossary of General Plan terms
17 Head-scratcher Housing Terms, Defined
Photo: Taylor Hanigosky